07.06.21 - The Commodity Report
Solid week across the board. China's threats to contain commodity prices already seem to be failing.
Top/Worst Performer Of The Week
In the last week of trading we saw a solid performance across the board. Only precious metals recorded some minor price losses.
The broad metal sector came under some pressure last week. In the industrial metals sector, the overall performance of Iron Ore was somewhat distorted. Iron Ore surprised with a strong price surge after the previous week's weakness. China's efforts to contain commodity prices seem to have failed for now. (as I already indicated last week) If you wanna read more about China's commodity market and the huge differences between the US market, than read this great article by Peter Sainsbury.
The grains sector also showed a very solid performance, driven by continued strong demand from abroad, as well as the Softs & Meats Sector.
The energy sector continued its positive trend from the previous week. In my opinion, Oil remains a buying opportunity here.
---
Financial Conditions
If we take a closer look at the change of financial conditions, we saw the USD was slightly positive last week. The USD is still in a key position and is being closely monitored by me.
Inflation expectations and yields on the 10Y Treasuries retreated a little and the 10Y Realyield was unchanged.
The direction of the US Dollar will continue to occupy me intensively in the coming weeks.
In the past two weeks, however, the USD formed a nice bottom. From a chart technical point of view, one could speak of a bullish double bottom, but it remains to be seen where the price breaks out. In my opinion, the fundamentals continue to suggest a sell-off until mid August.
As I have already indicated several times, I stand by my opinion that the Fed sacrificed the dollar in order to achieve the new ultimate goal of the Fed, namely full employment and the strengthening of the American lower class.
---
What I have on my Watchlist
Attractive on the Long Side: Gold, Crude Oil, Lumber, Copper, Cocoa

Attractive on the Short Side: Lean Hogs
---
My thoughts & Current Setups
Gold set back in the last trading week, which I would see as a healthy correction.
On Thursday there was a sharp drop in prices in the precious metals segment. Here you could watch exactly how the USD and the 10Y Realyield climbed upwards and Gold, Silver and the other precious metals fell.
The 10Y Realyield at Gold's last all-time high in August 2020 was around -1.04%. We are currently at -0.84%, which is less bullish for Gold. What makes me feel confident are the underestimated long-term inflation expectations in the US as well as a potential prolonged sell-off of the USD.
It would give me even more confidence if Gold tests the 200 MA and then continues its rally.
I like to use mining stocks in the precious metals segment to confirm trends. Here is a chart from the American Gold mine operator Newmont. Only when the Gold price reaches a new high and Newmont's price action is also showing strength again will I open another long position in the Gold future.
At the latest when the Gold price rises above 1960 USD, the last Gold bear will close its short positions and we will see new all-time highs, in my opinion.
I also would like to talk about Lumber again.
Lumber has already had to contend with price slumps in the past two weeks. In my opinion, we are still in a correction phase here. If you take a closer look at the chart you can also see that a support was formed at around USD 1211. Since I am still bullish on Lumber, I see this area as a re-entry opportunity, if we break this formation upwards.
Lumber Futures Contracts are still in a Backwardation and the shortage of Lumber is unlikely to subside in the next few months. In addition, house construction in the USA remains at an extremely high level despite a potential cooling of the market. If you listen to producers of Lumber in this segment, you learn that there are enough raw materials, i.e. trees, but too few processing companies and free capacities that could cover the demand in such a short time. Read this article if you wanna know more about the sustained lumber consumption in the US
Have you ever heard about Carbon Emission Trading? If not, it time, because trading the CO2 price of the EU offers enormous opportunities, especially in the form of futures contracts.
In this segment we could get a new catalyst for new highs as early as mid July. On July 14th, the EU Commission will present a package of measures to still be able to achieve the climate targets by 2030. According to my sources, it is already known that this package of measures will contain the strictest CO2 market reform that has ever existed. Here you can read more.
So I'll take a closer look at the subject next week. If you haven't subscribed to the newsletter yet, now its your chance.
---
Elsewhere In The Macro World
The labor market report was rather mixed. The consensus of 645,000 newly created jobs was slightly missed with 559,000 jobs. In my opinion, however, what stood out again were the average hourly earnings, i.e. the wage inflation, which again rose surprisingly strongly (+ 0.5% vs. 0.2% consensus). In addition, many women continue to be unemployed because childcare facilities are still not available as they were before the pandemic. In summary, the labor market recovery is still in tact, but it is taking a little longer than anticipated. However, inflation signs continue to increase with wage inflation.
OPEC maintains all of its goals and emphasized once again that additional volume from Iran will not pose a threat to OPEC's goals. This decision helps the Oil price and, in my opinion, opens the door to further price gains. At Crude Oil I would like to see the resistance testing of 66 USD and then ride the wave up to 75 USD, which is also my mid-term price target.
Both Manufacturing PMI (61,2) and Service PMI (64) numbers were a little better than expected. Nevertheless it looks like both numbers are peaking. But we should not forget that they're peaking on a high level. A number over 50 indicates continued economic growth or an upswing.
This week will be rather quiet on the news front. Thursday we have the key interest rate decision by the ECB, which should not hold any big surprises in store. On the same day, the US CPI numbers will also be reported, which I believe will be the focus for the entire week. Inflation expectations remain the current market topic. 30Y bonds will be auctioned on the same afternoon. It will also be interesting to see whether the previously reported CPI figures will have an impact on this. Thursday will be the day to watch the news channels.
---
Tweets Of The Week
🇺🇸 US Dollar Historically, the US dollar tends to fall when US CPI is higher than rest of DM 👉
isabelnet.com/?s=dollar
h/t
@bcaresearch
#markets
#inflation
#cpi
#currency
#dollar
#fx
$usd
#usd
#money
#usdollar
$dxy
#dxy
#forex
#investing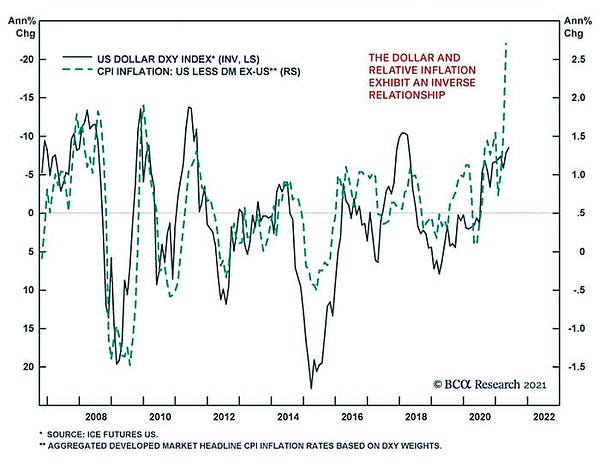 ---
Till next Monday, Lukas
If in the mean time you have any questions, please feel free to contact me via Twitter or Mail.
(The Commodity Report is not investment advice)